Track
the folks
in your
funnel

.
Marketing automation and CRM implementation for Motorola Channel Partners.
Data is now central to everything your sales team achieves on a daily and weekly basis, and a strong relationship between sales and marketing is critical to any business's success. Without direct access to real-time and historical data, you will never have accurate insights into your ongoing opportunities and sales targets. CRM (Customer Relationship Management) software is considered one of the most critical tools on the market today for contact data collection and management for sales departments. Today's sales leaders report using a CRM to manage prospect and customer data and automate at least part of their sales process. Additionally, your Motorola Channel Partner marketing team can also harness the powerful technology of customer relationship management. These tools can help to keep sales and marketing on the same page and working towards joint team goals when trying to approach the customer with new radio products and promotions in response to customer challenges.
As your efficiency through inbound selling techniques improves, your sales team will stay better connected to your marketing team. This improved efficiency along with a strong relationship between sales & marketing can not only result in increased conversions, but also increased sales.
Choose a marketing automation and CRM development partner that knows your industry and your business. It's that simple.
CRM designed with you in mind.
The last time we checked, there were over 5,000 CRM and Marketing Automation products in the marketplace, and they all claim they can do it all for you. Some of them can, and some of them can't, so it's important to choose a solution that fits your business and your budget.
At M4D, we've partnered with ActiveCampaign to develop a robust, affordable, CRM  solution built and customized for your Motorola Channel Partner business. We've highlighted some features below and would love to connect and learn more about your challenges to make sure our solution is a good fit for your business.
Use technology to help manage marketing processes. Get real-time notifications for website form fills, and send automatic replies 24/7/365. With ActiveCampaign marketing automation, M4D helps Motorola Channel Partners target customers with automated messages across multiple channels.
Did you know that ActiveCampaign marketing automation comes standard on all M4D websites? It's true. Contact us today to learn more about how M4D can help your Motorola Channel Partner business.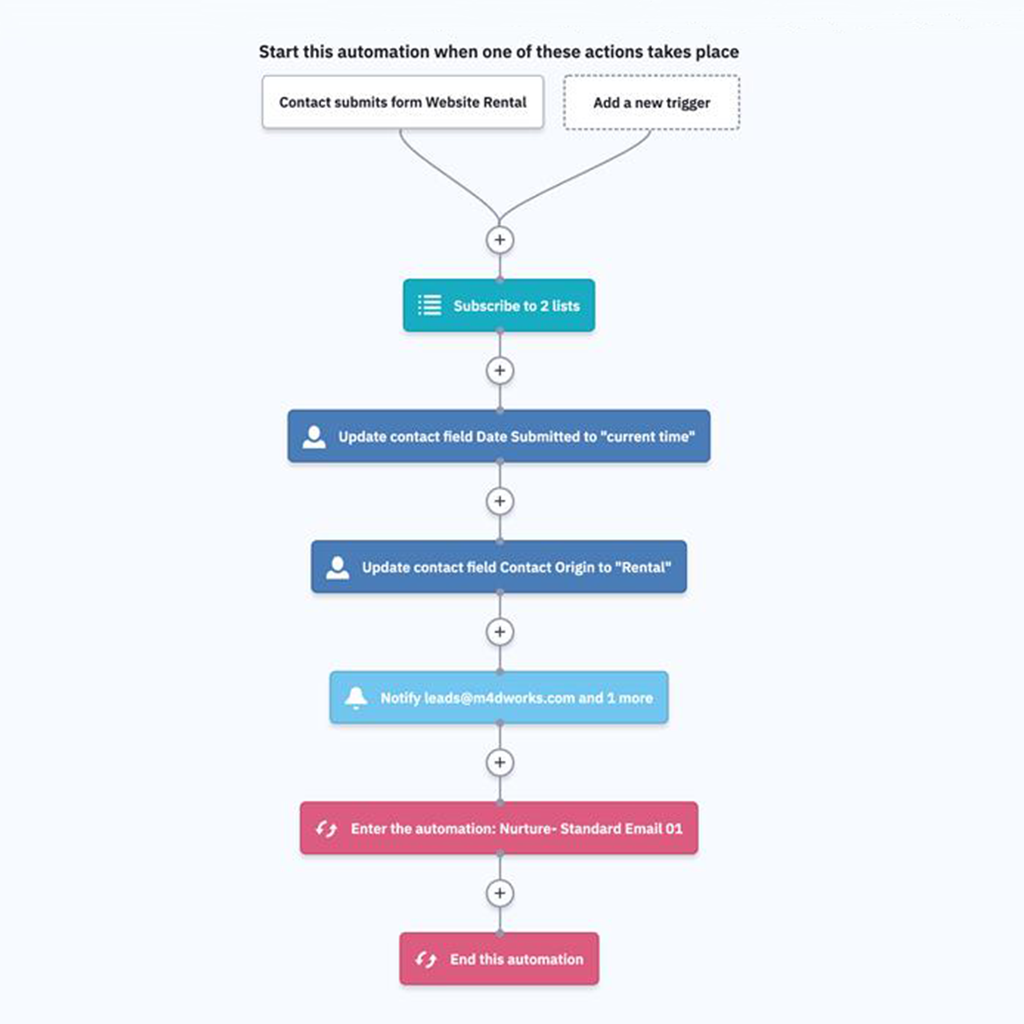 There's a lot of reasons, actually. We should probably start with a conversation first and make sure it's a great fit for both of us.